Find a calling;
change the world
Aim for something higher
Aim Academy is reinventing education. We help students discover
and grow their unique strengths — because the world needs them.
Lance Stewart
Head of School at Aim Academy
"At Aim Academy we understand that every child is unique – that one size doesn't fit all. We know that learning to do, learning to learn, and learning to be is more important than just learning to know. We recognize that every student who walks through our doors has a calling in life and our mission is to help them prepare for it. We treasure their curiosity and nourish it."
Jeff Sandefer
Founder Acton Academy
"What if children could share learning in a tight-bound community with a high standard level of excellence? What if they are encouraged to find a deep, burrning need in the world that matches the deep, burning need in their heart? We believe children are far more capable than we have ever imagined. That's why we encourage them to embark on their hero's journey to change the world."
We offer a truly different approach to school. Supported by the latest in technology and cognitive science, we move beyond the traditional tools of lectures, homework, high-stakes tests, and grades. At Aim Academy, our students learn in collaborative classrooms of multi-age learners. Our flexible approach challenges each student with their own differentiated learning plan and inspires them through real-world projects and experiences.
Experience how Acton is transforming education in this independent, award-winning documentary. Watch the video.
At Aim Academy, we believe that learning to do, learning to be, and learning to learn are more important than memorization alone – learning to know.
What Makes Aim Academy Different?
Socratic discussions, collaborative projects and self-paced learning in a student-led environment. Acton students are building real-life skills in the classroom everyday.
Powerful interactive technology
Self paced learning for Reading, Writing and Math.
The Socratic Method
Critical thinking skills and forging character.
A Learner Driven Community
Serious commitments; genuine relationships; authentic accountability.
Real World Quests and Apprenticeships
Hands on learning for 21st Century skills.
Traditional Schools vs. Aim Academy
At Traditional Schools...
Worksheets, busy work, homework, boring work

The teacher is always the expert

Taught what to think through memorization and regurgitation of rules and facts

The teacher lectures, disciplines, and makes the rules

Students are confined to rows of desks

Told what to read, what to learn and when to learn it

Classrooms where creativity is diminished and its nearly impossible to reach your full potential

Pace set by the teacher, or worse, the average of the collective where student progress is effectively limited by the lowest common denominator

Kids often stressed out about going to school every morning

Beaurocratic processes that almost never change

Lack of any leadership or decision-making opportunities

Failure is avoided and is considered a depressing end

Morals and character are an afterthought or avoided entirely

Passive, disengaged learning where its easy to get lost in the crowd

A transactional school like a factory with bells, shifts, and one-size fits all
At Aim Academy...
100% customized learning plans with cutting-edge adaptive tech, writer's workshops, quests, hands-on materials, and exciting challenges

Socratic Guides ask questions inviting our learners to become the experts

Learn how to think with debates and real world projects

Personalized goals, mastery based badges, comprehensive portfolios, and community exhibitions

Everyone's a teacher, peer-to-peer accountability, and student created contracts and promises

Freedom to move around, explore, experiment, and collaborate

Freedom to puruse your own interests and work on passion projects every day

Studios where outside-the-box thinking is rewarded and the process of finding a calling a life begins to occur

Self-paced progress enhanced by productivity hacks and independence, only hindered by a learners imagination

Experience 'Houses' of mixed-ages where freqeuently changing rosters and difficult team projects are always adding new dynamics to learn from

Our learners complain every time there is a day or week off of school--seriously

A never-ending process of innovation where we are always adapting and looking for even better ways of doing things

Incredible leadership opportunities developed by serving on committees, team leaders, and making decisions that actually impact the school

Failure is embraced for the learning and growth it provides

Strength of character is tested, grown, and explored-- including attributes such as perserverance, honesty, accountability, gratitude and more

Active, egnaged learning alongside a community of families

A transformational school like a journey, with big goals, mentors, tools, and a destination you care about
---
Get a free book
If you'd like to learn more about Acton Academy's story, read the book Courage to Grow.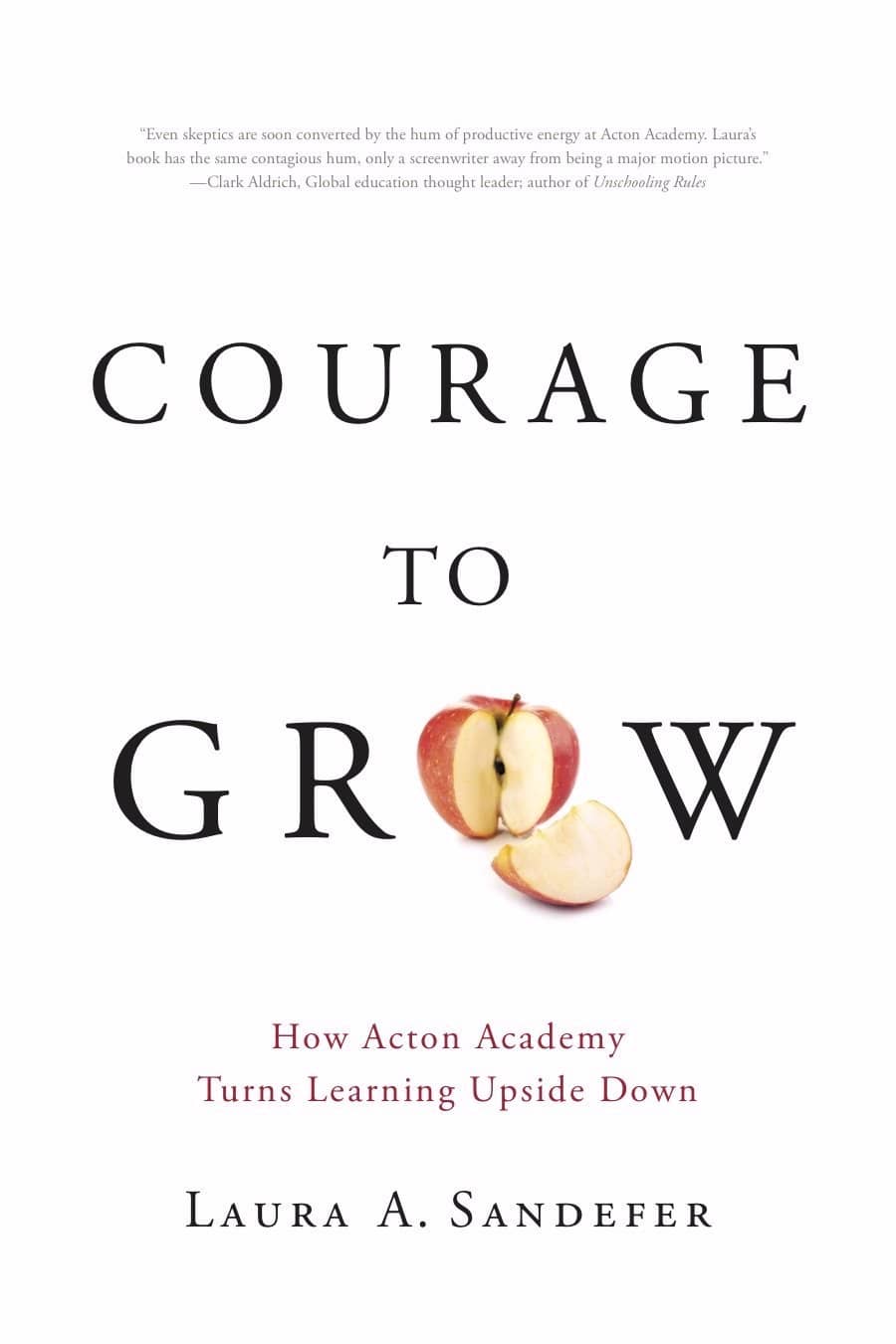 "Acton Academy is one of the most important education developments in the world. The story behind the ideas, the school, and the movement is a must read."
— Tom Van der Ark, CEO of Getting Smart
Our daughter is absolutely thriving at Acton Academy. She is taking ownership over her education - learning how to prioritize, focus, and accomplish goals. We couldn't be happier with the education, community, and values of Acton Academy.
Find out if Aim Academy is the right fit for your family: